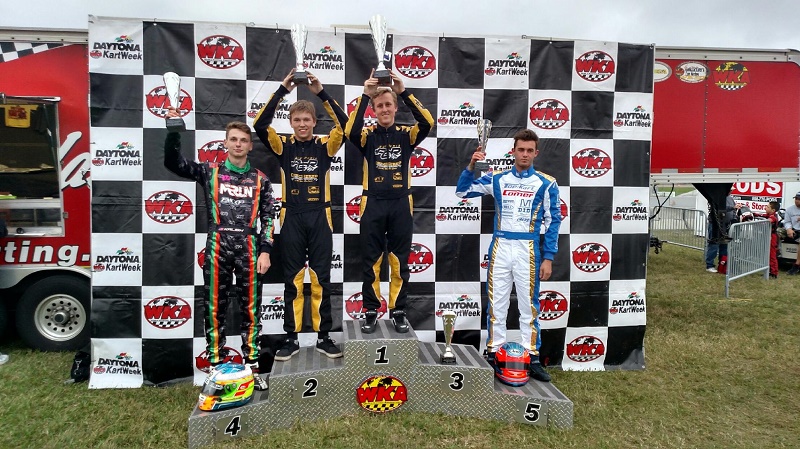 EKN Driver Diary: Kyle Kalish – WKA Daytona KartWeek 2014
As seen on eKartingnews.com:

The Decision:

We had been talking about switching to a gearbox class for a while now, but it wasn't really until August that we decided it was the direction we wanted to head. After 2 years in the TAG class, which I felt were very successful, I wanted a new challenge before my racing schedule starts to shrink due to college. After deciding what we wanted to do, it was all about putting it together. It was a no brainer to continue our program with Franklin Motorsports and the Merlin chassis, so we ordered the chassis and had it from Italy within a few weeks. From there, we got our engine from Swedetech and starting piecing together the kart. By mid-October, the kart was finished and ready to hit the track. But thanks to Illinois weather, we were only able to get one day at the track before we raced at Daytona.

Prerace Vacation:

My dad and I flew down to Florida on late Christmas Eve and the plan was to spend Christmas Eve and Christmas day in Orlando hanging around Disney World. We had a great Christmas Eve dinner in Downtown Disney where we stopped at Wolfgang Puck Express, a huge tradition in our family. Everytime we head down to Orlando, we stop there are get the margherita pizza (it is the best in the world, hands down).

On Christmas, we headed out early to Disney World to hit some of the parks. We went to Epcot first, which was one wise decision. Magic Kingdom was at capacity within a few hours of opening, which means they had 80,000 people in one single park! My dad and I walked around Epcot for a while, hitting a few rides and soaking in the Disney magic before we headed over to Disney Hollywood Studios. We stopped back at Downtown Disney for dinner, where we stopped at none other than Wolfgang Puck Express where we got another margherita pizza. We went back to Magic Kingdom later at night as most of the little kids and families were gone and finished off the night by checking out the fireworks show.

The next day (December 26th) we drove out to Clearwater and spent the day on the beach, which was extremely relaxing. It was nice to just kick it back at the beach and enjoy some super fresh seafood. Other than laying out on the beach, we didn't do much, which was perfectly fine with me. With the next day being move-in day, I enjoyed the last of the relaxation before it was time to get down to business.

Time to Get Serious:

We got into Daytona midway through the day (December 27th) and got registered and checked in, and went straight into the pits to get working on the kart. My dad makes sure everything is perfect before the race, so the work that was needed to be done was fairly minimal. Thanks to all the great guys at Franklin Motorsports, our pit spot was all set up for us, so our day just consisted of some final organizing and making sure everything would run right when we got on track. A nice surprise was seeing my friend James Kellett and his family! James came over from England a few years ago to race with Franklin in Daytona, where me and him dominated the Komet Jr. classes. He currently races in the Ginetta Junior championship in England, where he has been winning races left and right! It was great to catch up with him and his family on each others racing and lives.

December 28th was an interesting day as not only was it the first day of practice, but it was also my mom's birthday! Sadly my dad and I couldn't spend the day with her, but we made sure she had gifts to open and my awesome sister had a whole day planned for her, so she said it was a great day. I told her that I would win practice for her!

Florida fog was the story of morning practice, as we had a 30 minute delay before practice even started because of how bad the fog was. The first few sessions were all about learning shift points and getting comfortable in the kart. By the fourth round, we were able to focus more on the kart and tuning side of it, working specifically on brake bias, jetting, as well as typical handling tuning. Working with the brake bias was something totally foreign to us since we have never used front brakes before. At the beginning of the day, we put it in a 50/50 position as a nice neutral starting position, but we quickly moved it to about a 75/25 position. In regards to changes to the kart, it was pretty minimal and quite similar to the TAG kart. Many adjustments that we did here and at the day of testing before the event were the same or very similar adjustments that we would have done on the TAG kart as it is the same frame, just equipped with shifter components. We had the kart in a pretty standard position all throughout, so it was small adjustments to air pressures, castor, and then tried some new rear hubs as the track got more grip down. The Merlin LM30 has always been great in the standard position, so it only took small adjustments to keep it right! By the end of the day, we were about 5 tenths of the fast time. But luckily, I knew where I was making at least 6 tenths worth of mistakes. The Stock Honda class only had 7 entries, but everyone there were top drivers, so it was a great comparison for me to see where I stood against some of the best in the country. All throughout the day, my dad and I had help from Cale Wyse, Josh Lane, and Nick Neri, who helped so much with both the tuning and my driving. And at the end of the day, my Aunt and Uncle finally arrived from Georgia so that they could spend the weekend down in Daytona watching me race, which is always fun!

Race Day 1:

With the new format that WKA is running for the Man Cup, the first race day (December 29th) would consist of a morning warm-up, qualifying, and then 2 heat races that would set the grid for the prefinal.

The biggest thing that I was worried about was the standing starts. I did a few practice starts on Friday after getting some great advice from Josh and Nick. They mostly gave me advice with how to control the clutch to match the needs of the engine for the take off, but they also helped a lot with the procedural side of things. They helped with how to properly warm up the tires for the standing start, when shift into 1st in preparation of the flag drop, as well as few others. There were so many little things that I never would have even thought about if it wasn't for them helping.

We ended up 3rd in morning warm-ups and only a few tenths off thanks to the new lines I was running. Sadly they moved us to the first class, so the track wasn't too great so I couldn't maximize the potential of them just yet. We made our changes for qualifying and when we went up, but we forgot to adjust the shift rod after changing sprockets, so the kart wouldn't shift down to first! I got it started in second gear, and on I went for qualifying. I gave it all I could, and pulled out pole for the 2 heats!

I knew the racing side was going to be tough as it's a whole new beast compared to TAG. Because of the acceleration that these karts have, the racing is so much different. But luckily, I was very familiar with the racers I would be up against. I've raced with both AJ Myers and Jonathan Kotyk in TAG, and have been racing with Andrew Bujdoso since juniors, so I was comfortable racing with them. Even though they had an upper hand with experience racing the shifters, I knew I would still be competitive and that they would race aggressive yet respectful.

In the first heat, I had an OK start, and dropped down to second. I fell to third shortly after, but once I got back into my groove, I started working back towards the leaders. It was a good battle between the three of us, but I ended up settling in third. The second heat is something I really don't wanna talk about, as it's quite embarrassing. A mixture of nerves and inexperience resulting in me stalling at the start, from pole. At this point I was freaking out, so I couldn't get it restarted. It was pretty embarrassing, but it's all apart of the learning curve!

Thankfully at the end of the day, Josh Lane helped us adjust the clutch and the clutch lever to a position that was way more comfortable and after a few practice starts, I was feeling really confident.

The Big One:

Today consisted of another morning warm-up as well as our prefinal and final for the weekend. It rained the night before and since we were the first class out, practice was basically useless. I just decided to focus on practicing starts because that was where I felt was my real struggle point.

Surprisingly, track conditions were very similar from the second heat on the first day to the prefinal, so we didn't have to change anything on the kart. The only thing different that we did was add slight castor and then adjusted tire pressures for the longer race. There was no major changes on the engine or the kart that were needed as we knew we had a strong package.

As we lined up on the track for the start of the prefinal, I felt a lot more confident than I had the day before. As the green flag dropped, I had a pretty good start, and we all filed into the first turn. Later in the lap, I got put off and fell back to 6th. I was able to work my way quickly back up to 4th, but had to nurse the kart for the majority of the race as the water temp quickly started to rise to the about 170 degrees. What was discovered was a leak in the radiator that ended up causing a blown head gasket. Because of this, we had to cut the seal and start in last for the final. But with the number of karts in the field, it wasn't that big of a deal. My dad had great help by Cale and Josh once again and we were able to get the head gasket replaced as well as fixing the radiator. Even with the temperature problem, I was still able to turn out some pretty good laps. The kart was hooked up all throughout the 15 laps, so it was a shame we had the loss of power. While we did change the parts on the engine and repair the radiator to fix the problem, we didn't change anything in regards to the tuning of the engine. And we also opted to keep the changes to the kart just to tire pressures for the 20 laps as we felt we had a kart capable of winning.

I had to start the the final in last place, but I had a decent start and worked my way up to 4th within the first few laps. I got up the 3rd and was catching the leaders, but it didn't turn into much. As the race continued, lap times for everyone became fairly equal. I stayed in 3rd for a while until I fell to 4th later in the race, which is where I finished. As much as I wanted to be disappointed with that finish, I really couldn't be. I showed great speed and learned so much throughout the entire weekend, which is what we came here to do. This weekend was all about learning and I felt we accomplished that.

Without the help of Cale Wyse, Josh Lane, and Nick Neri, I don't think the weekend could have gone nearly as well as it did. Cale and Josh were able to share a lot of their expertise with my dad and I involving the tuning of the engine and Josh and Nick were able to help so much with the driving side of the shifter. I was really happy with everything we accomplished this weekend and feel really good about this season. Based on this weekend, I know I will be able to run upfront and fight for wins!

I would like to thank everyone who has not only supported my racing career and dreams, but supporting my move to shifters. Thank you to: my dad and my family, Franklin Motorsports, Merlin Racing Karts, EMCO Chemical Distributors, GO Designs, Swedetech Racing Engines, Minus 273, ONE Race Gear, Alpinestars, and Race Ready Engineering. Without all their support, I wouldn't be able to do what I do and accomplish what I have.