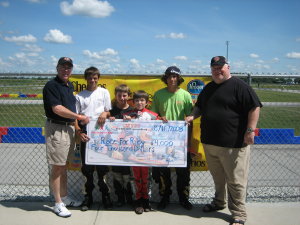 Kids Racing for Kids Presents Check to Race for Riley
For the last time this 2008 racing season, Kids Racing for Kids made an effort to make a difference by donating another $4,000. KRFK will presented the check to the Kroger Race for Riley, Presented by Cheerios last Saturday August 16, 2008 during the WKA Manufacture's Cup Final at New Castle Motorsport Park.

During the 2008 kart-racing season, KRFK has been donating $4,000 at each World Karting Association Manufacture's Cup event. The four junior winners from the previous race each donate $1,000 in their name to the beneficiaries.

Typically, our platform is child abuse and child advocacy centers," stated Caroline Lobaugh, General Manager for KRFK, "but the Kroger Race for Riley, presented by Cheerios is such an important foundation not only to the racing community, but to the Indianapolis community as well."

Rick Possen from Kroger/General Mills and Dave Wilson from WIBC Radio were present to accept the check from Shawn Sharkey, Gresham Wagner, Zach Busch, and Kyle Kalish. The $4,000 total went towards the Riley Hospital for Children through the Race for Riley program.

KRFK was also the title sponsor for the Race fan Radio live coverage during the event.

At the end of the year, one driver will receive a gift from KRFK for donating the most money in their name. Junior driver Tommy Anderson won this honor after donating a total of $3,000 donated this racing season!