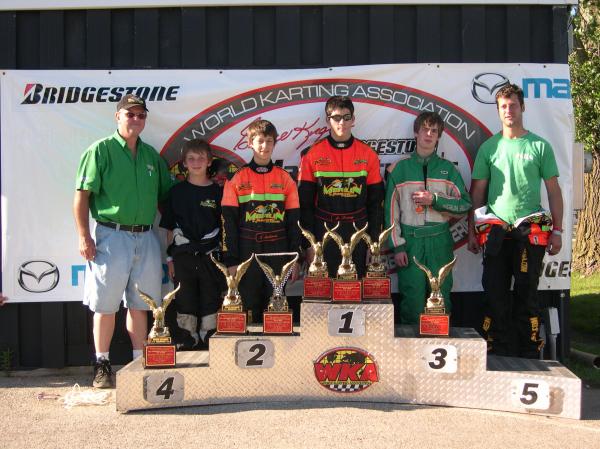 WKA Grand Nationals - Badger Raceway
The WKA Grand Nationals, the biggest race of the year and at my home track, oh the pressure! Drivers from all over the country would diverge in Dousman, WI.

Once again practice went very well. My Dad and Jamie had the kart working great. I knew I was the one to beat. Yamaha would be first up on Saturday, and qualifying could not have gone better… my first National Pole! I would go on to lead every lap of the Prefinal and every lap of the rain shortened Final. My first Eagle!... Wow what a feeling!

Qualifying for HPV would once again find me sitting in the Pole position. Some bad decisions on my part would drop me back to 4th in final. It was hard to be disappointed after Saturday, but I knew I should have taken two Eagles home.

I would like to thank my Dad for giving me a great handling kart all weekend. The Merlin MR28 worked flawlessly. Also without Jamie and George Sieracki, and Jim Perry this would not have been possible.

Team Merlin would have a great weekend with TJ Koyen and I winning one, Tommy Andersen winning two, and Jason Foley winning three Eagles!